Hey Guys, Necro here back with another anime review after a long hiatus. I have been super preoccupied with MANY things so I almost forgot I had this series. But after exiting the winner in my bet with Josh, I felt a new spark to redo these reviews again. And with that here we are.

So this anime I am about to review is one of the anime I watched as part of my Anime Challenge Bet with Josh. It is a story of a young girl who experienced tragedy as she slowly believes she needs no one to help her but herself. But then she meets a boy and her perspective on life, friendships, and relations gets flipped on its head.

Hello and welcome to Necro Anime Reviews as today, I go over the romantic anime called Say "I Love You"

Let us begin!!!
-----------------------------------------------------------------------------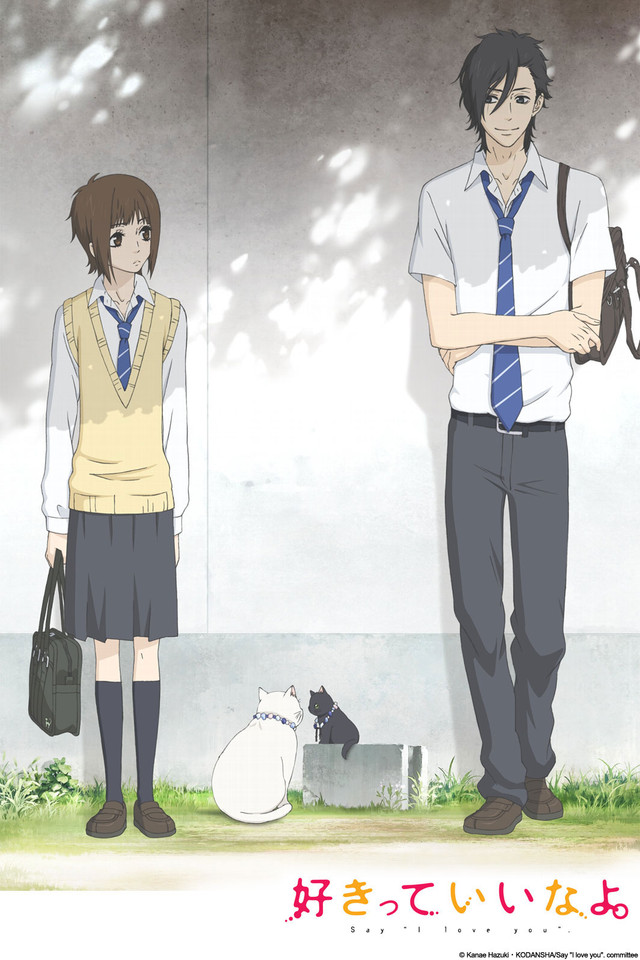 -----------------------------------------------------------------------------
PLOT:
- Friends suck, and trusting someone is just setting yourself up. That's the lesson Mei Tachibana learned after her heart was ripped out and only a shell was left where a girl used to be. But unlike so many, she found an easy solution: she'll never make another friend. Ever.
Okay, maybe that's not as easy as it sounds, but it's worked for Mei – or at least, it did until handsome, charming and annoyingly popular Yamato Kurosawa came along. For some freakish reason, he seems to like Mei. He even gave her his phone number! As if she would ever call him. Except she did. But only because she needed help. Still, he came. He actually came. And now things are getting way too complicated.
Mei's no princess in a tower. She's not waiting for a knight in shining armor to rescue her. So why did he have to kiss her and confuse everything? And why are those three little words so hard to say?
-----------------------------------------------------------------------------
This plot was a spectacle for the eyes and ears. The way they introduced the concept of the plot in the first few minutes is breathtaking as it is portrayed almost like a nightmare and even include the character's mute dialogue to narrate her situation.
The drama of a girl turning her life so far from a normal course of life to go this harsh is fantastic. Seeing this portrayed is even more fantastic too with the imagery in the opening of episode 1. If there is one thing I love about this plot especially, it is the message.
The message of how not only one should never fall into this pit of despair, like Mei has, but also how one can get themselves out if they so happen to get into this pit in the first place is a glorious message for the young fans of anime. And as I am sure a lot of you know, I love a good anime if it can teach a good moral lesson.
Another aspect I saw that sickened me was the level of brutal the bullying was. We had characters get insulted for breast size, rapid weight loss, a little girl thinking her friends are exploiting her for the ability to hang at her house, and even 1 girl throwing herself in Mei's own exact problem but thankfully she learned the recover quicker than Mei did originally. This sickened me on so many levels, but thankfully this anime uses it to teach of the dangers of bullying, again going back to my previous statement.
And now, onto the main 5 characters
-----------------------------------------------------------------------------
MAIN CHARACTERS:
Mei Tachibana
- Mei is our main character and the main focus of this story. Mei was once a social person before, but because of an accident that made her classmates put the blame on her, she decided never to befriend anyone again. In the beginning of the anime, she is described as "freakishly gloomy" and "doesn't speak". She is anti-social and clumsy, as well as observant, honest, supportive, and funny. She serves a lot of focus when she meets Yamato Kurosawa, who teaches her how to regain a normal life and to trust others by saving her from a stalker in episode 1.
I find Mei as a really great character. Not only does she try to adapt to regaining a social life and her trust in others, she also helps others face their own inner problems. 1 memorable moment involved her talking down Yamato's friend Kenji for failing to try and cheer up her friend Asami, who Kenji has a crush on, after some bullies went after Asami.
Another good scene as well is when she dealt with another man who was trying to cheat with her to ruin what she and Yamato had and she talked him down after he tried insulting one of Mei's friends for rapidly losing weight to try to get Yamato in the past.
Mei plays much in this story and it shows with how she impacts her friends, Yamato, and the people around her, even through those people insulting her and harassing her. So in short, Mei is probably one of the best characters in a romantic anime ever.
She is also voiced by Caitlynn French in the dub, who memorably voiced Midori Nishizono from Little Busters, Shiro from No Game No Life, and Inuchiyo Maeda from The Ambition of Oda Nobuna. So I know a certain someone will enjoy this anime.
Yamato Kurosawa
- Yamato is one of the most popular boys in his school. When he first meets Mei due to a situation caused by his best friend Kenji, he gets kicked by Mei. After giving her his phone number, Mei gets stalked on her way from work and calls Yamato for help. When he gets there, he kisses Mei to get the stalker to go away. Then, he eventually grows a liking to her and started dating her soon after that.
Yamato is a unique character as his personality is that of one of the most caring people ever. He has been described by many people in show to care about nothing but others, despite his own problems, and would protect anything he felt needed protecting. Yamato's character in this show is amazing and when he realizes how much ends up screwing others, he really takes it hard.
I also love learning about how in his past, Yamato was like a chameleon and tried blending in with the bully group to avoid getting bullied himself, but when they bullied his best friend without him giving an objection except when they were not around and the friend left the school, he broke down and developed this need to help others, no matter the price. I love this sort of redemption story and it works well for Yamato.
Yamato is voiced in the dub by Leraldo Anzaldua, who voiced Kengo Miyazawa in Little Busters, Takashi Kumoro in Highschool of the Dead, Verethragna in Campione!, and Noda in Angel Beats! Overall, he is a talented guy indeed
Asami Oikawa
- Mei's classmate and friend who has complex feelings about her large chest. She hates it when people always stare at it and that no one seems to like her for who she is. She idolizes Yamato because he defended her from boys teasing her about her chest in middle school, and wishes for a prince of her own to protect her.
Eventually she comes across some scenes when bullies still go after her calling her a slut and such and after Kenji fails to help her and ends up making her feel worse, Mei talks him down and he talks to her about how he loves her not for her chest but for her personality and all that. As a result they start dating and serve an example relation compared to Mei and Yamato.
Asami is a very likable character in this show and I enjoy a lot of her scenes especially in the dub, but that may just be cause of her actress. Asami is voiced in the dub by Monica Rial and I do not have to go over her roles as she has SO MANY memorable roles that is would be suicide to name all the great roles she has.
Kenji Nakanishi
- One of Mei's classmates, and a good friend of Yamato's. Kenji is portrayed as a pervert in the anime and caused the catalyst for Mei kicking Yamato in the face in their first encounter. Kenji also was a shy dude who got a talk down by Mei and learned to help Asami and eventually dated her.
Not much to say about Kenji as his role is sort of minor, but i bunch him in here as he caused Mei and Yamato's memorable encounter.
Kenji is voiced by Greg Ayres in the dub, who also voiced Yousei Sunohara in Clannad, Masato Inohara in Little Busters, Monokuma in Danganronpa: The Animation, and Denmark for season 5 of Hetalia.
Megumi Kitagawa
- An amateur model and transfer student who was placed in Yamato's class. She acts sweet, but in reality is trying to cut Mei off from the rest of their friends and steal Yamato. She had childhood trauma of being called ugly and a plain girl. After realizing that few people actually thought of her as a friend even though she did much to please them such as paying for meals and giving gifts, she finds true friends in her childhood friend Momo and Asami.
In addition, she begins to ignore other people's comments and cuts her hair as an expression of choosing her decisions without the fear of other's opinions.
Megumi is an interesting character. She follows the archetype of annoying pompous characters who clearly are there for annoyance sake but then she does a 180 as she realizes the truth and it all crashes down on her.
She starts believing the philosophy Mei followed in the beginning of our journey and I was legitimately worried for her and how the character will act, but thankfully she got help from her true best friends and learned that it is OK and she should not have to appeal to those who find joy in her misery.
Megumi even went so far as to cut her hair, knowing full well that others would think of her differently and she had no care to that. I like those kinds of characters, especially if done right.
Megumi is voiced in the dub by Emily Neves, who did the voices of Kotomi Ichinose in Clannad, Minene Uryuu (9th) from Future Diary/Mirai Nikki, Yui Kiriyama from Kokoro Connect, and Minako Ayuzawa from Maid-Sama!
Now onto the Background and Music
-----------------------------------------------------------------------------
BACKGROUND AND MUSIC:
- The background and music fit tremendously. The atmosphere this plot brings is amazing and Zexcs, the creators of Say "I Love You", took it to its full advantage. By having this kind of plot, those thoughtful moments and flashbacks hold their intended weight very well.
One particular scene holding a ton of atmosphere is when Aiko, one of Mei's friends who fell for Yamato in the past said how depressed she was and said only wanted to have a night in bed with Yamato to help her and prevent her from potentially killing herself and, knowing full well what the implications of this would be, Yamato obliges. The music in this scene was amazing as this was a crucial choice for Yamato. He gave and took to help make sure this girl did not kill herself, proving his character VERY well as the one who cared for others more than himself.
Another memorable moment is near the end of the series where Mei is jealous and mad at how Yamato seems to be spending more time modeling for a magazine each and every day. She keeps asking herself why she is like this when she sees Yamato in the hallway. She walks towards him thinking about everything then suddenly grabs his tie and pulls him down for a kiss on the lips. The episode does its usual ending card with dialogue typically from Mei or Yamato with Mei saying, "I Love You" before it goes to credits.
The atmosphere building up to a moment I am certain would catch anyone off guard is amazing especially since it was this girl who isolated herself and is slowly learning how to gain her social life back. Overall a fantastic scene.
-----------------------------------------------------------------------------

After all my points, what do you guys think of this anime and tell me if you have seen it already plus your thoughts on it. I also ask what your thoughts on this subject matter and how would you react in this situation.
This has been Necro signing out. Peace.